Polyboard is a unique & powerful tool for
designing and manufacturing built in furniture.
In the kitchen industry Polyboard really excels
allowing you quick and easy custom kitchen
design.
Unlike other software packages that are based on
predefined cabinet libraries, Polyboard gives
you the full control over the manufacturing and
construction of your cabinets
Polyboard does it all: Compete cut-lists for all
materials. If you're using a cnc you have full
control of part shaping, boring cut-outs and
other machining - all in 3D with 100% accurate
costings for each component right down to the
last screw!
Polyboard lets you decide how you
want to build your
cabinets.
While many kitchen design programs come
with predefined libraries and a set of
options to modify them. Polyboard has
a different approach. It simply allows
you to create virtually any cabinet that
can be made out of flat panels quickly
and easily.
You can define predefined cabinet styles
and manufacturing methods that will
allow you to create cabinets from
scratch very quickly, or build one
cabinet, duplicate it, make changes and
watch you're own personalised kitchen
cabinet library grow in next to no time!

Special Cabinets:
Special cabinets are easy in Polyboard in fact this will be the main reason
you will be grateful that you chose Polyboard! While most kitchen
carcass cabinets are standard there are many jobs that call for the kind of
flexibility that Polyboard users take for granted!
Easy create special cabinets such as:
o
Display cabinets, with timber frame or aluminium frame doors (and
get a cutting list for the frame and glass)
o
Shadow line cabinets with cut-outs for rails, and adjustments for
finger pulls.
o
Oven cabinets and Range hood cabinets with appropriate
allowances for ducting.
o
Cabinets with external voids or cabinets that fit around building
columns easy with just a few clicks
o
Curved open shelving
o
Overhead hamper cabinets
with bi-fold or lift doors
Automatically produce detail
dimensioned part drawings showing the
location of all required boring. If you
have a CNC machining centre these
parts can be sent directly to your
machine in standard formats for Weeke,
Homag, Biesse, SCM as well as
standard 3D DXF drawings.
←Slideout
Rangehood
cabinet
Rounded end
overhead wall
shelves, In
Polyboard its easy
to create open
shelves with
curves: →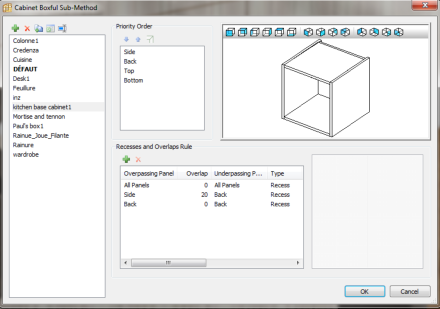 We also have a kitchen
cabinet library available
with some example
kitchens designed. These
are freely available, so
you are welcome to use
and adapt them to suit
your needs. We can get
you going very quickly
using these but as no one
builds cabinets the same
as everyone else, we
recommend you take the
Polyboard advantage and
set your own library. And
of course remember we
are always here to help!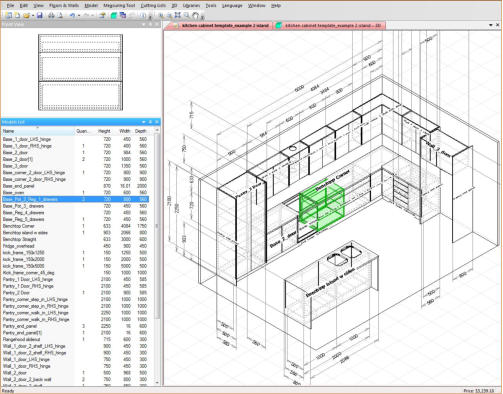 ↓ Kitchen cabinet library available
↑ Easy setup which part will overlap other parts e.g. if back is
external, internal or even half / half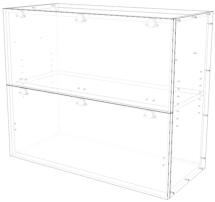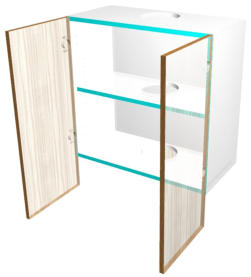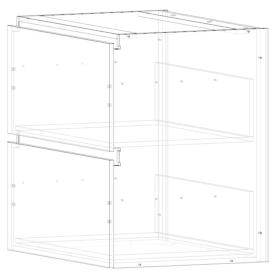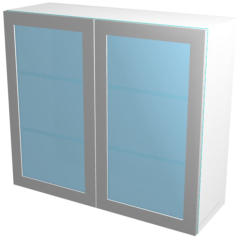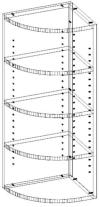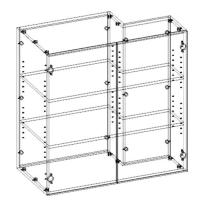 Overhead wall cabinet
with bi-folding doors
and stay
Cabinet with void for corners with
columns or pipes. In Polyboard its only a
couple of clicks to create this fully
parametrically, just specify the panels
and the void dimensions.
Shadow-line cabients are easy in Polyboard,
Position the cut-out for rails on your panels
fully parametrically in any shape, even finger-
pulls on panel fronts can be specified.
Display cabinets with glass doors, easy
specify mitred joints for aluminium or
router machining for MDF frames.

Kitchen cabinet types:
Polyboard offers many standard cabinet
shapes that will suit your day to day
manufacturing needs, these include the:
o
The humble square box cabinet
o
The L shape corner cabinet,
o
45 degree angle corner cabinet
o
Free shape cabinets with multiple
panels at any angle.
All these cabinets are fully parametric, which
means that you can design them to your hearts
content, and then at a later date; duplicate and
modify the overall cabinet dimensions to use
cabinets of the same style and shape but with
different dimensions.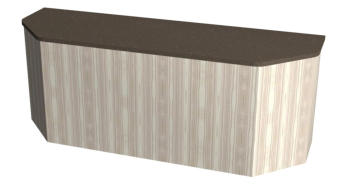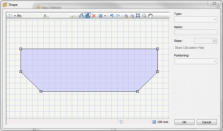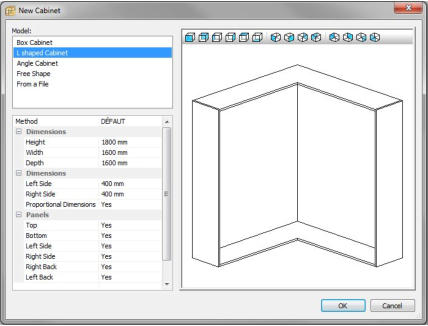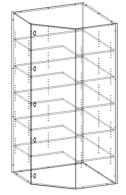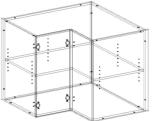 Create new cabinets
using 3 quick start
predefined shapes or
use the free shape
option to create any
shape cabinet; like this
half- hexagonal kitchen
bench island
Polyboard
comes with three
pre-deigned
quick start
cabinet shapes,
box, L-shape,
and Angle
cabinets

Benchtops, End panels, & kick frames
Ancillary parts to a kitchen are all possible to model and
create in Polyboard. Bench tops, splash-backs, end
panels, filler pieces, kick- boards \ frames, are all easily
designed and shown in 3d and properly costed in your job.
o
Bench tops & splash-backs are easily made in
Polyboard joints between sections can be designed
including corner mason mitre joints. Bench tops can
be modeled as a solid piece like a stone, or as a two
part glued up panel comprising a particleboard
substrate and a laminate on top. in either case
all materials are costed separately by the square
metre and total thickness is modeled in 3
Dimensions on screen. Of course as with any
panel in Polyboard, bench top with machining
such as mason mitres, can be exported to your
cnc machine in your desired format.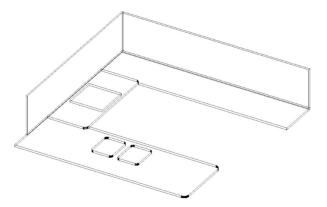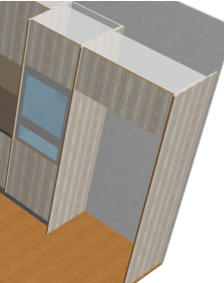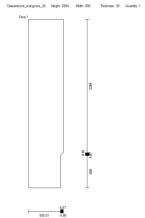 In Polyboard cabinets can consist of whole cabinets or you can delete
parts to create subsections of cabinets as a result designing end panels
and filler pieces are easy as designing a cabinet with a single panel or two!
o
kick frames can be a single panel if you use plastic support legs
or they can be a whole ladder frame and like laminate bench-
tops if you glue laminate to the front panel it will be fully costed
& displayed. If you normally cut your kickers out of offcuts, The
material can be set to be different from the carcass so that you
can receive a separate cultist for the kickers

← In Polyboard you
are free to place
end panels
wherever needed.
Kick frames or
panels are easily
designed →
Use Polyboard to create your
bench tops and splash backs.
Polyboard automatically
generates dimensioned drawings
and CNC files for machining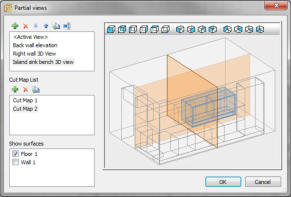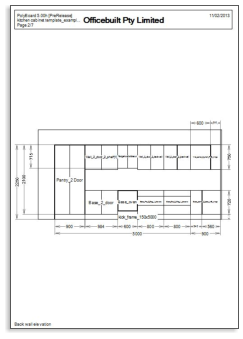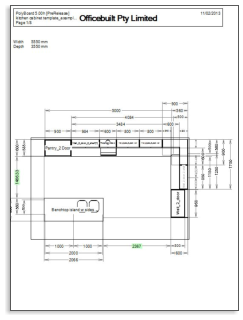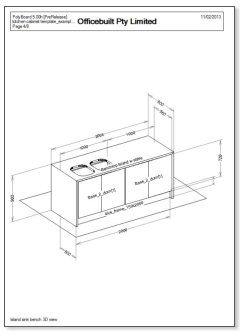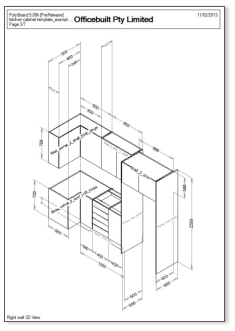 The Partial views
window lets the
user set where they
want to 'cut' the
room drawing in
order to get clear
partial views of
sections →
Over all Plan view, notice
dimension in in black are
automatically generated
by Polyboard. Green
highlighted dimensions
are extra ones added by
the user.
Shop drawing of back wall,
Please click to see large view
3D Shop drawing of Island bench views
can be set to any orientation including 3D
3D Shop drawing of
Right hand wall, Please
click to see large view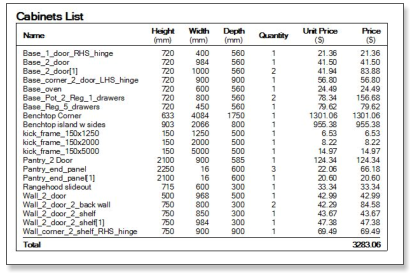 First page of the kitchen cutting list
Detailed costing of all components of your kitchen job
Cabinet list / Loading list of the cabinets contained in your job
Shop drawings & renderings :
Polyboard produces nice 3d rendered graphics that will
demonstrate your designs to your customers.,with
full rotation and zoom controls.
In addition to rendered views, manufacturing
workshop drawing are also able to be generated
fully dimensioned, either part or unit by unit or
as a whole complete kitchen.
Polyboard also gives you the option of adding in
your own dimensions to show special features of
your designs i.e. space between cupboard and
doorway or space between a cupboard and a wall
to show that there is adequate space to open
doors.
Parts can be made semi-transparent to show cabinet
internals and there is also a feature to animate the
opening and sliding of doors and drawers.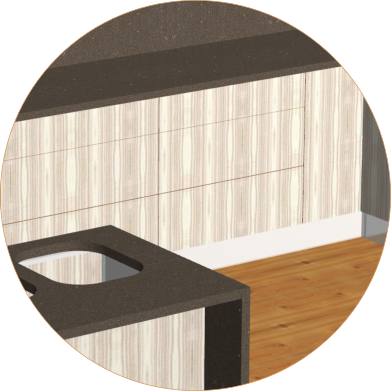 Reports and Detailed Job
Costing:
While some software packages have
reports and job costings calculations
as optional extras Polyboard comes
with all the manufacturing reports
you need included as standard, in all
version levels.
The detailed costing reports includes and
itemises all the components and materials that
go into your kitchen job. This report will help
you with both understanding the cost of your
job so you are able to quote properly, but it will
also assist you in the ordering of components
from suppliers for each job.
o
All panel materials have a cost /
square metre and thereby Polyboard
calculates total cost for each
material used including surface
laminates like those applied to kick-
boards.
o
Edgebanding is costed by the metre
and total edgebanding used for each
type of tape is calculated and added
up.
o
All hardware fittings are totalled and
costed separately giving you
accurate both knowledge of what
items are in each job, and the total
cost. all items are included;
adjustable shelf support pins,
hinges, drawer runners / sides, and
each and every screw!
A detailed cutting list is available in all levels
even if you use the post processor to export
your parts to your Nesting CNC machine for
cutting you will still be able to print a cultist that
is broken down to individual cabinets. which
would be uses to cut parts that are not cut on
the cnc like kick boards.
Polyboard Also will generate a report that will
itemise all the cabinets used in a job. that
would be useful to be use as a truck loading list
or even for general quoting purposes.